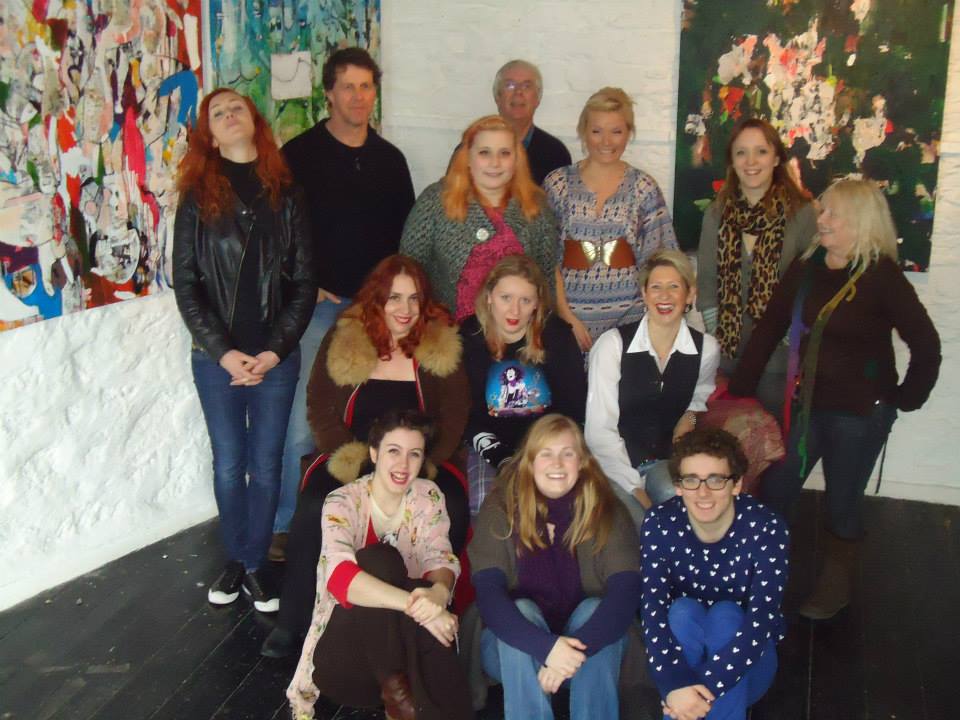 Charlotte Pollard - Executive Director
"I first dreamed the Old Press up in 2003 but didn't have the courage or skills to make it real. I floundered about for 9 years and did an MA in curating visual culture and then moved to Cornwall in 2009. I felt that St Austell was crying out for my dream project and so I searched for and found the magical building that has now become its home. Every day I wake up excited about the new challenges I face and all the amazing people I meet and work with on this incredible journey."
Charlie also occupies a studio at the Old Press. She is a painter, photographer and printmaker, specialising in nudes.
You can see her work at http://www.flashfilmandprint.co.uk and https://www.facebook.com/charlottepollardart?fref=ts
http://www.guerillagalleries.com/artist_charlotte_ratcliffe.html
Charlotte teaches life drawing, photography, pinhole photography, drawing, art history, design and fine art.
Cid Bennett - Non Executive Director
"My role involves being supplier of cake to meetings, chairs to gallery - toilet cleaner - pain in the *** - helping at events - dish washer at events - Chief china hunter so we have nice cups and saucers to serve tea out of.
The Old Press CIC is a way to be involved with art, something which I admire greatly but am unable to produce myself. It's a lovely place to meet friends and is the best place in the town and possibly in Cornwall, to buy presents for those awkward people who you never know what to get them. An inspiration to be creative. A place that unites all types of people within the county in a way that I would have not thought possible, and a place that I enjoy being in."
Steph Wilson - Project Manager
Funding bid manager, Admin Lover, Sweeper of floors, maker of tea, labeller of art, assiduous filer of papers, source of bad puns, and general helper monkey.
"I'm really excited to have the opportunity to volunteer at the Old Press CIC. Not only is it a great chance to make new friends and develop as a person, but it's brilliant to be surrounded by people who are passionate about sharing their knowledge and love of art with the local community."
Dan Borlase - Project Manager/Tea Boy
Project manager of the Friends and Creative Industries Schemes, marketer of events, raiser of funds, maker of tea, updater of website, setter upper of exhibitions, cake baker and all round assistant.
"I discovered the Old Press after helping my friend set up the Macabre Exhibition and wanted to become more involved. Since then Charlie has been great at helping me to gain experience and work in an amazing place with amazing people. I want to do as much as I can to help the Old Press make a difference to the community and the arts."
Lynn Simms Lynn shares a studio with Charlotte. She is a printmaker painter and interested in drawing. Her work is about the choreography of drawing, the transformations created by layering marks and processes. She builds surfaces and textures.
Lynn teaches printmaking, drawing, sculpture and painting.
To find out more check out Lynn's website: http://lynnsimmsartwork.weebly.com/
Georgina Bignell-David is our resident ceramicist. Her amazing work can be found in the gallery. She says "I grab my inspiration from nature around me, it helps to live in such a beautiful place as cornwall. I use clay as I love the way it can be manipulated into a form and then fired solid capturing an idea, thought or emotion. Georgina runs classes and workshops in ceramics and sculpture.
To find out more check out Georgina's website: http://g-design8.wix.com/georgina
Andrew Bryant's work is about absence and longing — and the mastery of these affects — especially in relation to masculinity. He has an MFA from Goldsmiths College, and has been making and exhibiting for over 20 years. His output includes drawing, sculpture, photography and video, as well as creative writing. Andrew has been a writer and freelance editor for Tate and a-n The Artists Information Company, and is a qualified teacher. Alongside his art practice he is a psychotherapist in private practice.
Hannah Chapman is an illustrator and printmaker who loves to tell stories. Her drawings and prints are always highly detailed and intricate. As well as printmaking Hannah enjoys life drawing classes at The Old Press.
Katie Lee strikes a balance between art and craft practices and as an arts educator strives to foster creativity, innovation and self development. Katie introduces people to new ways of seeing, awakening a richer understanding of the world around us, relationships within it and the possibilities before us. She brings to life the legend and myths of her surroundings, drawing from the traditions of shadow puppetry to create everyday objects which tell a story, using local, sustainable materials and minimal design to remove superfluous parts and components.

John Tambling is an abstract painter who uses elements of collage in his work. Using pieces of retro comics and current magazines John explores ideas of modern masculinity and the mind.
Ella Pollard takes photographs, creates prints and produces ceramic pieces. Her greatest inspiration is people. She loves to photograph and draw with abstract compositions. An artist of many talents The Old Press is her home away from home.
Josie Fildes is a Graphic Designer and Illustrator who specialises in design for publication, promotion and apparel. Her illustrations take inspiration from her tastes in hip hop music and she often combines bold dark lines with flushes of bright colours.

Kate Heath specialises in abstract painting, using texture and colour to build large pictures with bold composition. She enjoys experimenting with mixed media, often incorporation oil, acrylic and spray paints with chalks, charcoal, industrial fillers and other substances to create a variety of surfaces within her paintings.
She produces textiles and jewellery for her brand, IvyChild, which also incorporate a range of textures through fabrics and interesting trimmings. She uses a mixture of vintage, second-hand and modern fabrics to make products for the brand and variety of techniques to make functional and wearable pieces.
Will Pollard - Till Monkey, Sign maker.
"My mum forces me to help out on the till during exhibitions and events but I like it really."
George Pollard- Grifter, Little Del Boy
Watch out he's cheeky and will get you to buy something. If you see him with the book of raffle tickets get out of there!